Once you've tasted food that is
truly fresh
you can tell the difference immediately.
Looking for deliciously fresh Turkish food with mouth-wateringly authentic flavours, amazing quality ingredients, generous portions… and all served in a welcoming, buzzy, convivial atmosphere? Welcome to Havet Restaurant.
Havet is a family restaurant with very exacting standards. Our Turkish Cypriot heritage means that we are passionate about sharing good fresh food. Our ethos is 'fresh food, daily' which means we're dedicated to sourcing the very best produce available so that our talented chefs can create delicious dishes, bursting with flavour.
At Havet,
freshness and quality
Everything on our menu is freshly made according to recipes passed to us by our parents and grandparents and given a modern twist. Every dish and menu item is prepared under our roof using the best and freshest ingredients possible, every single day.
We're up early to go to the markets and bring home only the premium meats and top-notch fresh produce, just as our families have done for generations before us when preparing home-cooked food. You can read more about our approach to dining here.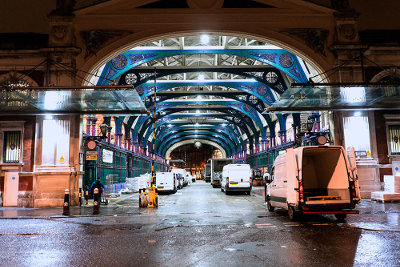 Fresh food, great flavours
Our expert chefs create meals that are abundant with all the amazing flavours of Turkish cooking. Combining the sun-drenched flavours of the Mediterranean with the earthy, delicately spiced dishes of the Middle East, we've created a menu that celebrates the best of our parents' homeland.
High quality ingredients mean great tasting food – and our customers agree (read what they have to say here).
*Please note, all food that was photographed for use on our website was only used for display purposes. You may also notice that we do not wear gloves when preparing food, this is following the Food Standards Agency guidelines.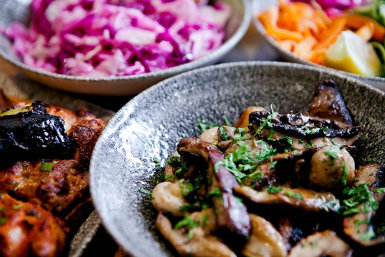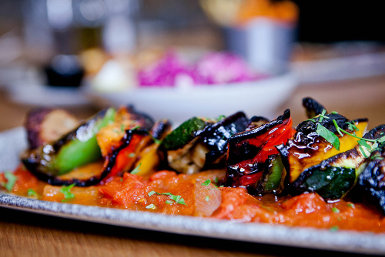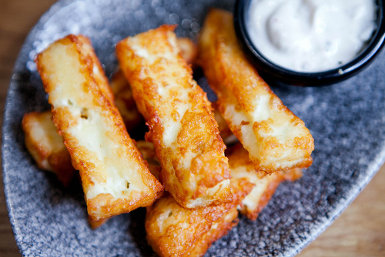 Every dish is freshly prepared under our roof, using only the very best ingredients bought that morning
Taking our cue from the success of meze dining, our extensive menu is flexible – you can tailor a meal to suit your tastes and mood, choosing your meat, salad or rice options in a 'pick and mix' approach that our diners love. In fact, you could dine with us every single day of the year and never get bored as we offer over 500 meal options/menu combinations.
Check out our menus here. You'll find all your favourite Turkish, Mediterranean and Middle Eastern-influenced dishes on there and plenty of fish and vegetarian choices too. Choose from traditional Turkish hot and cold meze (see box, below), mousaka, fish kebabs and perfectly marinated meat kebabs such as:
Our kebabs are cooked over our traditional mangal (charcoal grill) and we also offer homemade grilled sausages as well as chicken wings and lamb chops.
We make everything we possibly can in our kitchens. Nothing is bought in – not even our chilli sauce. It's made using five fresh vegetables and piquant chillies to create a warming addition to your meze, kebabs and salads.
You can't have an authentic Turkish meal without meze and this is where our fresh food, daily ethos really singles us out. Our meze dishes are homemade with care. We start our preparations early in the day and it's really noticeable in the flavours and freshness.
We soak and cook the chickpeas for our hummus overnight and prepare the dish early every day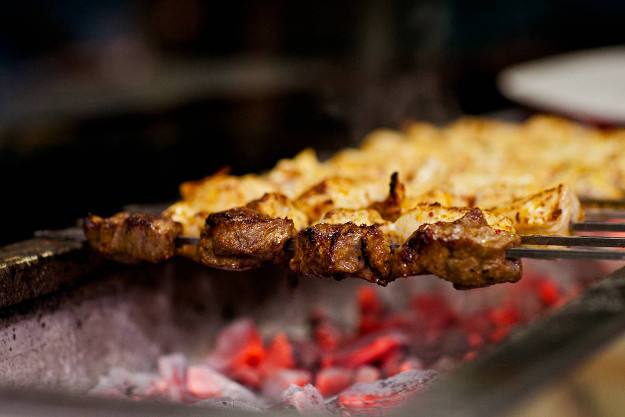 All our food is cooked fresh as and when you order it in a traditional BBQ style over hot coals.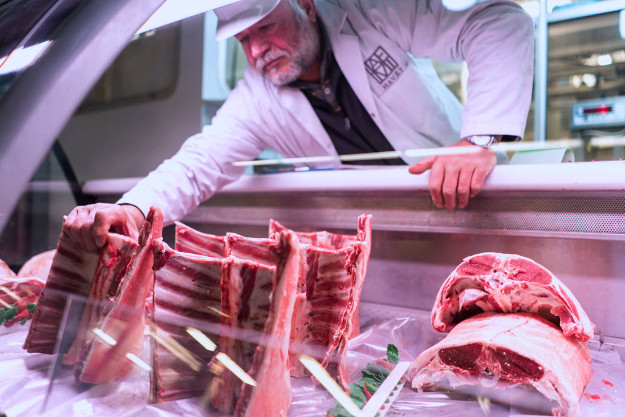 We are at Spitalfields and Smithfield markets by 3am every day to ensure we get the pick of the produce and ensure that we are first in the queue for the prime cuts of meat.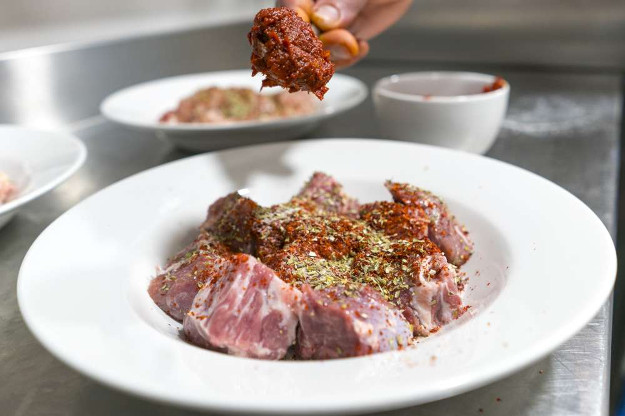 Our chefs are in before breakfast preparing our meat and fish dishes, ready for lunch service. They then repeat the process mid-afternoon, ready for our evening diners
Our bar staff are dab hands with a shaker and our master mixologists can create all your favourite cocktails. Prices start from £6.95.